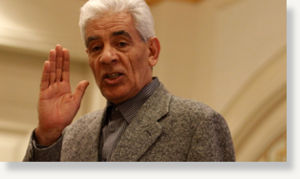 Libyan leader Moammar Gadhafi has issued a defiant statement after two high-profile departures from his regime, and is calling on leaders of countries attacking his forces to resign.
The Libyan news agency said Thursday Gadhafi accused Western leaders of being "affected by power madness" and wanting to create another war between Muslims and Christians.
The Libyan government earlier confirmed the resignation of Foreign Minister Moussa Koussa, who had defected a day earlier. Ali Abdessalam Treki, a former foreign minister and UN General Assembly president, also announced his resignation on Thursday.
Libya said that Koussa had resigned due to health problems, and was not a sign the embattled regime is cracking at the highest levels. Koussa flew to England from Tunisia on Wednesday and the British government said he had resigned.
Koussa, a trusted Gadhafi adviser who has been blamed for some of Libya's brutality and credited for some of its diplomatic successes, has been privy to all the inner workings of the regime. His departure could open the door for some hard intelligence, though Britain refused to offer him immunity from prosecution.
Libyan government spokesman Moussa Ibrahim said Koussa was given permission to go to Tunisia because he was sick with diabetes and high blood pressure, but the regime was surprised to learn he had flown to London.
"I talked to many people and this is not a happy piece of news, but people are saying, 'So what? If someone wants to step down that's his decision,"' Ibrahim said.
"Yes, Mr. Moussa Koussa worked in high-ranking positions of the government, but we don't think he will sacrifice the safety of the country," Ibrahim said. "He is tired and exhausted. He is an old man. His heart and body cannot take the pressure."
Koussa's departure heartened Gadhafi's opponents, who suffered their third straight day of battlefield losses Thursday to better armed, trained and organized government forces.
Rebel calls Gadhafi 'injured wolf'
"We believe that the regime is crumbling from within," opposition spokesman Mustafa Gheriani said in Benghazi, the rebel's de facto capital.
Gheriani said Gadhafi is "an injured wolf and an injured wolf is much more dangerous than a healthy wolf. But we hope the defections continue and I think he'll find himself with no one around him."
Nations behind the campaign of international airstrikes that have hobbled Libya's military also consider Koussa's resignation a sign of weakness in Gadhafi's regime.
Koussa "can help provide critical intelligence about Gadhafi's current state of mind and military plans," said Tommy Vietor, U.S. National Security Council spokesman. He added that the defection "demonstrates that the people around Gadhafi understand his regime is in disarray."
"As the president said the other night, 'It should be clear to those around Gadhafi, and to every Libyan, that history is not on his side.'"
In another blow to the regime, U.S. officials revealed Wednesday that the CIA has sent small teams of operatives into rebel-held eastern Libya while the White House debates whether to arm the opposition.
Despite the setbacks and continuing airstrikes -
now led by NATO
- Gadhafi loyalists have retaken much of the territory the rebels had captured since airstrikes began March 19.
The U.S. has ruled out using ground troops in Libya but it is considering providing arms to the rebels. Still, White House press secretary Jay Carney said Wednesday that no decision has been made.
Foreign minister a fomer intelligence chief
Koussa is not the first high-ranking member of the regime to quit - the justice and interior ministers resigned early in the conflict and joined the rebellion based in the east.
Koussa was Libya's chief of intelligence for more than a decade. The opposition blames him for the assassinations of dissidents in Western capitals and for orchestrating the 1988 Lockerbie bombing over Scotland and the bombing of another jet over Niger a year later. The links have never been confirmed.
In later years, however, Koussa played an important role in persuading Western nations to lift sanctions on Libya and remove its name from the list of state sponsors of terrorism. He led settlements of Lockerbie, offered all information about Libya's nuclear program and gave London and Washington information about Islamic militants after the Sept. 11 attacks.
Scottish prosecutors say they've asked Britain's Foreign Office to speak with Koussa about the Lockerbie bombing, which killed 270 people.
Source: The Associated Press and The Canadian Press