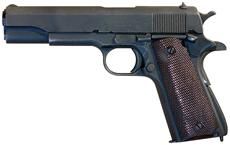 An M1911A1 semiautomatic, .45-caliber pistol manufactured by Remington Rand. Utah gunmaker John M. Browning designed the original M1911 firearm, which lawmakers want to make the nation's official state gun.
A House committee voted, 9-2, yesterday to endorse a bill that would make Utah gunmaker John Moses Browning's M1911 semiautomatic pistol a state symbol. The bill's sponsor, Rep. Carl Wimmer, R-Herriman, said the .45-caliber handgun is something that represents Utah,
The Tribune
reported.
"It's an implement of freedom that has defended America for 100 years," he said.
The M1911, which was the standard-issue sidearm for U.S. forces from 1911 to 1985, was used by military heroes such as Alvin York and Audie Murphy, Wimmer said. The House Political Subdivisions Committee passed the measure, which several gun rights groups backed. The bill goes to the full House, which Republicans control.
Opponents argued that semiautomatic pistols are the weapons most often used in mass shootings, such as the rampage in Tucson on Jan. 8. The gun used to kill six and wound 13, including Rep. Gabrielle Giffords, was a smaller, 9mm weapon.
"Is this the time to adopt as a symbol of the state the same kind of weapon used to kill all these people?" asked Steven Gunn of the Gun Violence Prevention Center of Utah.