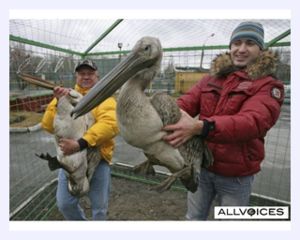 A small flock of African pink pelicans apparently bamboozled by the warm weather in Siberia flew north from Kazakhstan instead of south as any properly functioning pelican GPS system should have told them. Vladimir Pyagin from the village of Suslovo said:"I left home early in the morning and what a sight!" "When I got closer, I immediately realized they were pelicans. ... Everybody in the village started trying to catch them to save the exhausted birds from the dogs""
Residents captured four of the exotic pelicans. They were moved to a zoo in the regional capital Barnaul. The other three birds in the flock were able to fly off.
Members of the Bird Conservation Union said the pelicans were flying back to their native Africa from Kazakhstan but obviously lost their way. The head of the Union said: "This is a unique case. Some reports suggest pelicans last flew here over 100 years ago,"
However the area is breaking records for abnormally warm November weather, with temperatures in Altai hovering around 5 degrees Celsius. In other parts of the country, there have been reports of bears and hedgehogs delaying hibernation. Still 5 degrees C is not exactly tropical!
Due to fears that the pelicans could not survive the winter they are being kept at the zoo in a heated aviary. The Barnaul zoo director said:"We're not yet talking about letting the pelicans go free. ... We have already prepared a heated aviary for them, and in the spring we'll build a pond," The zoo is seeking advice on how to care for the pelicans from the Moscow zoo.
The pelicans are immature being just one year old and not having the trademark pink feathers yet. It will be a while yet before they turn pink. Probably not during the winter!