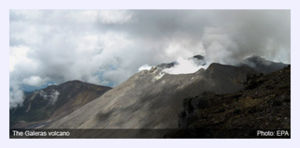 Authorities and inhabitants in the south of Colombia fear an eruption of the Galeras volcano after four tremors shook the area on Sunday and Monday.
According to the volcanic observatory run by Colombia's Geology and Mining authority Ingeominas, the several tremors are related to the activity of the volcano and an eruption is likely
within days or weeks.
The quakes took place in the area surrounding the active volcano just outside the city of Pasto.
Ingeominas says it continues to be alert to the volcanic phenomena and will report changes.
The Galeras volcano erupted last in January, after which 8,000 people were forced to evacuate.
.