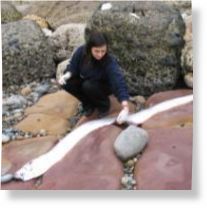 One of the rarest monsters of the deep has been washed up on a beach in North East England.
The three metre-long oarfish was found by a visitor to Tynemouth beach, in North Tyneside.
The fish is only the fourth recorded sighting of the species in the UK since 1981, but the third to be found washed up in the North East in the past seven years.
Nicknamed the "King of Herrings" by marine experts, the oarfish is the world's longest species of bony fish, and can grow to be as long as eight metres.
It usually lives a mile under the surface in sub-tropical oceans, and is thought to be behind many supposed sightings of sea monsters over the centuries, on account of its size, and undulating way of swimming.
Earlier this month, a 10ft-long oarfish was discovered in a decayed condition near Amble, in Northumberland. It was thought to have become stranded as it followed the Gulf Stream towards the UK. Another of the rare fish was discovered on the coast near Cleveland, in 2003.
The latest sea creature was taken to the Blue Reef Aquarium in Tynemouth, where marine biologists will conduct a post-mortem examination to try and determine what caused the fish to die.
A marine expert said it was a "mystery" why two of the rare fish had been washed up so close together in a short space of time.
Zahra d'Aronville, a curator at the aquarium, said: "Until relatively recently, sightings of oarfish were incredibly rare. Very little is known about the life cycle of these truly magnificent creatures and it's a mystery why two of them should have washed up on our coastlines so close together.
"This particular individual is in really good condition and there are no obvious reasons why it should have died. At this stage it's impossible to tell whether it was alive when it stranded or whether the currents simply washed it ashore," she said.