An eagle-eyed 7DAYS reader believes this picture (below) could hold the answer to the mysterious fate of thousands of dead fish that were washed up on a beach in Jumeirah. Chenine Groenewald pictured what she thought was a meteorite falling from the sky on Monday.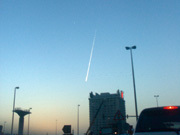 ©Chenine Groenewald
It coincides with the unusual sight of thousands of small silver fish found dead on the beach on the same day. Authorities still do not know what killed the fish, which locals were seen gathering up for food. But Groenewald believes the meteorite could have fallen into the sea, killing the marine life. "I'm not sure if it is related to the fish being washed up dead, but I saw something falling from the sky on Monday evening, in that direction, which I would assume is a meteorite," she said.
The MET Office, however, rubbished the idea that the picture is of a meteorite. "We are not astronomers, but it looks like a contrail from an airplane," a spokesman said. But a defiant Groenewald responded: "It was coming down quite quickly and I didn't see any plane nearby - I've never seen anything like it."