In vertical bars of blue, green, gray and red, a briefing chart prepared by the Defense Intelligence Agency says what Gen. David Petraeus won't.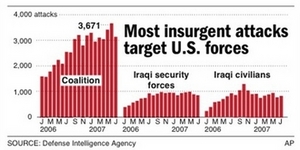 ©AP
Chart shows number of insurgent attacks against, Iraqi civilians, Iraqi security forces and U.S. troops
Insurgent attacks against Iraqi civilians, their security forces and U.S. troops remain high, according to the document obtained by The Associated Press. It is a conclusion that the well-regarded Army officer who is the top U.S. commander in Iraq is expected to try to counter when he and Ryan Crocker, the U.S. ambassador in Baghdad, testify before Congress on Monday and Tuesday.
More than four years into a conflict initially thought to be a cakewalk, the war has become a battle of statistics, graphs and conflicting assessments of progress in a country of more than 27 million people.
The defense intelligence chart makes the point, with figures from Petraeus' command in Baghdad, the Multinational Force-Iraq. Congressional auditors used the same numbers to conclude that Iraqis are as unsafe now as they were six months ago; the Bush administration and military officials also using those figures say that finding is flawed.
With so much depending on how the statistics are collected and interpreted, policymakers in Washington are confused.
Rep. Ike Skelton, chairman of the House Armed Services Committee, summed up the situation during a hearing last week on the report by congressional auditors at the Government Accountability Office.
"What is really going on? What standards should we look at? Where do we go from here?" asked Skelton, D-Mo.
For every positive step, a negative one follows.
Progress by the Iraqi army is offset by the failures of the national police, which an independent assessment rates as "operationally ineffective."
Nearly 77 percent of Iraqis want the militias in Iraq to be dissolved, according to the GAO, yet their government has not written legislation to do so.
While the rights of Iraq's minority political parties are protected in the legislature, the GAO said violence against minority religious and ethnic groups continues "unabated" in most areas of Iraq.
The report used the defense intelligence's countrywide figures to conclude that the average number of daily attacks against civilians has remained "about the same" during the past six months.
The auditors could not determine if sectarian violence had declined since the start of the president's troop increase.
The agency's findings are contentious because the Bush administration and military officials in Iraq have said security has improved over the same period due to the additional 30,000 U.S. troops in Baghdad and other trouble spots.
In July, the White House, citing "trends data" from Petraeus' command, said sectarian violence, particularly in Baghdad, had declined since the troop increase began in February.
"There's a difference of opinion - a strong difference of opinion - as to whether or not sectarian violence has decreased," David Walker, who heads the auditing agency, said last week.
In a letter to his troops Friday, Petraeus acknowledged progress has been "uneven," but said sectarian violence has fallen considerably. The number of attacks across the country has declined in eight of the past 11 weeks, he said. The letter from Petraeus does not provide any figures.
According to the DIA chart, there were 897 attacks against Iraqi civilians in January and 808 in July. There were 946 attacks against Iraqi security forces in January and 850 in July.
An attack is defined as a violent act that may or may not produce casualties.
Coalition forces, which include more than 160,000 U.S. troops, were attacked the most. Slightly more than 3,300 attacks were recorded in January and 3,143 were reported in July, the DIA said.
Charts from the Multinational Corps-Iraq, the war-fighting unit headed by Army Lt. Gen. Raymond Odierno, tell a different story with bar graphs and arrows. The charts contain no numbers and they focus on Baghdad, where the bulk of the additional U.S. troops went.
The number of roadside explosions in the Iraqi capital dropped sharply between June and the beginning of August, according to one chart; so, too, have monthly car bomb attacks.
One chart shows a decline in monthly casualties in Baghdad, a trend that U.S. military officials attribute to the "diminishing effectiveness on the part of the enemy," according to the chart.
Telephone and e-mail messages left with Odierno's unit seeking more clarity about the charts were not immediately returned.
Critics say those gains amount to "cherry-picking" the most favorable data. But U.S. officials, including the head of U.S. Central Command, which oversees military operations in the Middle East and Central Asia, cite the gains as evidence Iraq is moving in the right direction.
"In the less than six months I've been in this job, I have seen a substantial change and it gives me some significant optimism that this place may just work out the way we had envisioned, or some had envisioned, when the tasks were undertaken," Adm. William Fallon told the Commonwealth Club of California, a public affairs forum, last week.
Fallon took over in March as head of the command.
Gordon Adams, a former Clinton administration official who specializes in defense issues, said all the statistics coming from Iraq need to be questioned.
"When you really care about something, you're really tempted to use the numbers that look best to you," said Adams, a professor at American University's School of International Service.
Adams drew a parallel to Vietnam, when body counts became a measure of success.
"There have been too many claims of victory. Too many claims of progress. No one trusts it anymore," he said.
An independent panel led by former Marine Corps Gen. James Jones found much to criticize in a report it released last week.
Jones and other retired military and law enforcement officials concluded that Iraqi security forces would be unable to take control of their country in the next 18 months.
Among the shortcomings are a national police force that is so flawed it should be disbanded and reorganized, and a corrupt border patrol that leaves Iraq's boundaries "porous and poorly defended."
The tension and violence is "fed by the slow and disappointing pace" of political reconciliation, according to the 20-member panel, which spent three weeks in Iraq. Nonetheless, they said there are "signs of encouraging tactical success" in and around Baghdad.
Michael Heidingsfield, a member of the panel, said he does not expect Petraeus to tell Congress he is satisfied with the current level of violence in Baghdad. It is, however, lower than it has been since 2004 due to the infusion of troops, Heidingsfield said.
"That process works," said Heidingsfield, who spent 14 months in Iraq as a police adviser. "The challenge is, can you sustain it?"
Andrew Bacevich, a professor of international relations at Boston University, said the debate over what to do in Iraq has concentrated too much on near-term gains.
To gauge the success against an insurgency on month-to-month data "is to set yourself up for a surprise," said Bacevich, a retired Army colonel and a vocal critic of the war.
"The argument in Washington - Is the surge working? Is the surge not working? - is a debate that does not show sufficient awareness of the overarching strategic issues that are at hand," he said.