A volcano in north-east Ethiopia's Afar region erupted over the weekend, leaving two people missing and forcing hundreds to flee, state-run media reports.
The Ethiopia News Agency (ENA) said the volcano spewed lava on Sunday, forcing mainly salt-mining Afar nomads living around the mountain's range to escape.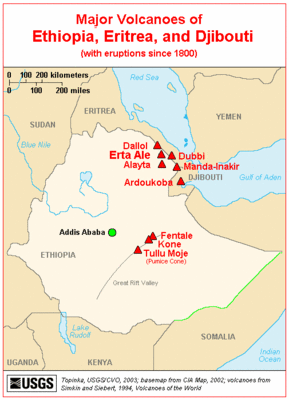 ©USGS
"The volcano at Alama'ari locality in the Afar regional state forced residents of the nearby villages of Dayulu and Gomoyta to flee for their lives, two among them are still missing," regional official Mohamed Hayu told ENA.
"People living in nearby mountain ranges were also forced to retreat," he said.
The state's disaster prevention agency has dispatched investigators and relief supplies to the area that lies about 980 kilometres north-east of the capital, near the frontier with Eritrea and Djibouti, ENA said.
The volcano's name was not given, and it was not immediately clear if it was Mount Arteale, the only active volcano in Ethiopia, which erupted some two years ago.
That eruption, releasing a thick blanket of ash and plumes of smoke, caused the displacement of more than 50,000 Afar nomads and the death of hundreds of livestock.
Arteale had been largely dormant for the previous six decades, but started to spew molten lava after a series of earthquakes rattled the region in September 2005.