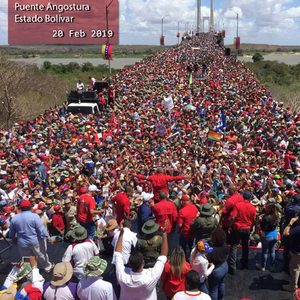 20 February 2019: Pro-Maduro demonstration on Angostura Bridge in Bolívar state, Venezuela
When men yield up the privilege of thinking, the last shadow of Liberty quits the horizon.
- Thomas Paine
Recent Comments
CNN is old world media... expendable like the OWO they represent.... all expendable tools of the trade of ruling the masses... .like religion...
---
And he needs to be free of corrupt corporate action. Assange requires secure military transportation to a destination free from Western corporate...
---
One Store in the capital, does not belie the situation in the rest of the country, or the rest of the capital for that matter. Just Sayin
---
Testing... testing to see how far they can push without any pushback... typical... and to be expected of any imperial mindset, especially as they...
---
Oh no! A Western reporter who doesn't tow the party line! Now the challenge is to get the message across to the other 99.9% of the paid corporate...