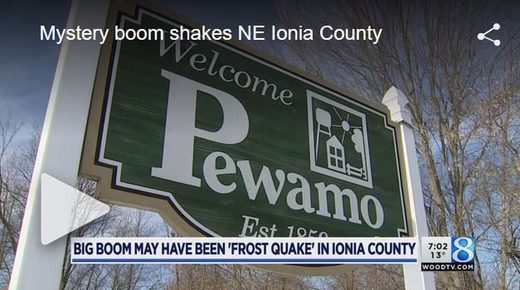 Most days, the Ionia County community of Pewamo is a about as peaceful as it gets. You may hear the rumble of the occasional semi-truck rolling through the village. Otherwise it's pretty quiet.
That was not the case about 4 p.m. New Year's Day.
"We just heard what sounded like an explosion ... It shook the entire house,"
Bethanie Kramer, who lives outside of the village.
"It was not subtle at all. It was 'boom!'"
Kramer wasn't alone. Post after post on the
"wassup IONIA?" Facebook page
described reactions to the event from all over northeast Ionia County.
"Carson City, down to Westphalia, Lyons, Muir - they all heard it," Kramer said.
Ionia County 911 received four or five calls about the boom, but no reports of injuries or damage.
So far, there are no definitive answers as to what caused it. Speculation ranged from someone playing with dynamite to an earthquake to an attack by North Korea.
One possible explanation that seems to make the most sense has to do with the cold weather that has gripped West Michigan.
The sound could have come from a phenomenon known as a frost quake.