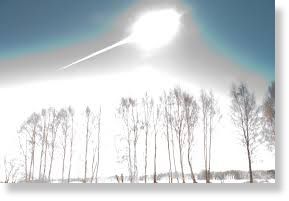 There are scads of building-size, potentially hazardous asteroids lurking in Earth's immediate neighborhood, and they may be colliding with the planet 10 times more often than scientists have previously believed, according to a new study published Wednesday that examined the airburst of a 25-million-pound asteroid earlier this year near the Russian city of Chelyabinsk.
Three studies released Wednesday, two in the journal
Nature
and one in the journal
Science
, have provided the most detailed description and analysis of the dramatic event on the morning of Feb. 15. Scientists now estimate the diameter of the object at just a hair under 20 meters, or about 65 feet. Undetected by astronomers,
the rock came out of the glare of the sun
and hit the atmosphere at 43,000 miles per hour.
As it descended through the atmosphere, it broke into fragments, creating a series of explosions with the combined energy of about 500 kilotons of TNT, making it more than 30 times more powerful than the atom bomb that destroyed Hiroshima in 1945, although the energy in this case was spread out over a much broader area.
The shock wave blew out windows in nearly half the buildings in Chelyabinsk. It knocked people off their feet; dozens were sunburned by the blinding flash, which at its peak was 30 times brighter than the sun. About 1,200 people were hurt, most by broken and flying glass, but no one was killed.