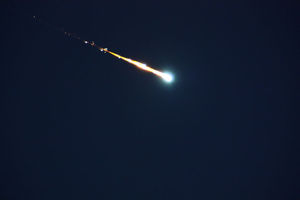 New Zealanders are reporting sightings of a "massive" meteor seen in the skies over the country last night.
Edward Ennis, of Christchurch, said he saw a "massive meteor burn up in the sky" from his home in Spreydon about 7.55pm.
"Never seen anything like it," he said. "Amazing."
Vice president of the Canterbury Astronomical Society Adrian Kelly said he was holding an open night at the organisation's observatory when a "sizable fragmented fireball" was seen.