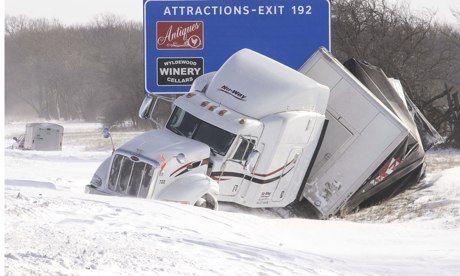 - Twenty six states under federal warnings for severe wind chills
- Montana recording a record-making wind chill of -52C (-61F)
-
Live blog: life-threatening cold hits North America
Millions of Americans from Montana down to as far south as Alabama are being warned that their lives are at risk if they venture out for any length of time into brutally cold conditions that are driving temperatures to their lowest in 20 years.
Severe weather warnings
from the National Oceanic and Atmospheric Administration for Minnesota and Wisconsin said that wind chills caused by gusts of up to 30 mph were causing temperatures to plummet to between -37C (-35F) and -46C (-50F). "Exposed flesh will freeze and cause frost bite in only five minutes," the warning observed, adding that such dangerous conditions were likely to last until at least Tuesday afternoon.
Twenty six states continue to be under federal warnings for severe wind chills as bitterly cold air is swept down from the Arctic, with Montana recording a wind chill of -52C (-61F). The severe weather has already caused havoc in the Northern Plains and is expected to reach the north-east on Tuesday, extending disruption to airports and travellers. More than 3,000 flights were cancelled on Monday and Chicago's O'Hare International airport has been particularly badly affected.