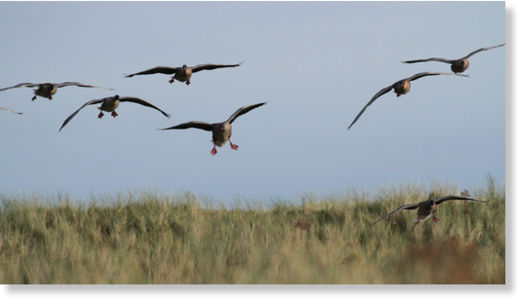 A record-breaking number of pink-footed geese have arrived at the Montrose Basin Wildlife Reserve in Angus this year.
At least 85,632 of the birds have flown in from the Arctic and Iceland to stay at the Scottish Wildlife Trust site for the winter months.
Their arrival marks the start of the wintering season for Scotland's wildlife.
Staff and volunteers at the centre monitor the goose population closely to check for changes and
this year's number has broken the record set last year.
Last year saw 78,970 of the birds make it to the Angus attraction, which broke the previous 2010 record of more than 65,000.
The huge number of birds taking off en masse at the beauty spot at dawn and arriving back at dusk is proving to be a draw for bird spotters and wildlife photographers with visitors numbers also seeing a significant rise.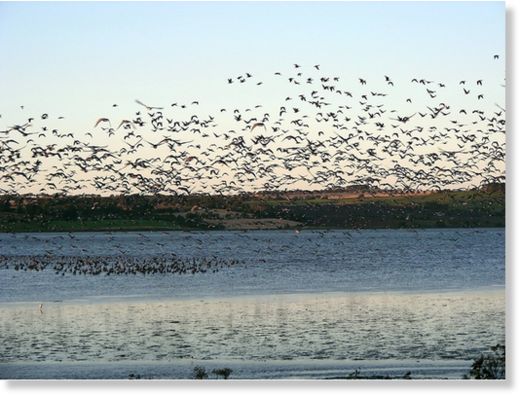 Around 90% of the world's population of pink-footed geese spend winter in the UK, leading the site's rangers to believe the number could continue to rise over the coming years.
The geese complete a two-day flight, covering a distance of 2250km, to reach Montrose from their breeding grounds in the Arctic tundras.
Scottish Wildlife Trust assistant visitor centre manager at Montrose Basin, Emma Castle-Smith, said: "Beating last year's record at this point in the season is amazing and the numbers could still be increasing.
"What this also tells us is that the Scottish Wildlife Trust Montrose Basin Wildlife Reserve is a great habitat for wintering pink-footed geese.
"Seeing these amazing birds en masse is breath taking for anyone lucky enough to witness it and we strongly urge people to make a visit to Montrose Basin.
"This is not just something for diehard wildlife enthusiasts to enjoy because it is absolutely stunning to see."
A statement from the Scottish Wildlife Trust added: "These remarkable geese are attracted to Montrose Basin by the safety of the roost site and find feeding grounds on surrounding arable land.
"The spectacle of large skeins of geese leaving the basin at dawn to feed and returning at dusk to roost is one many people enjoy each year.
"Some 'pinkfeet' may spend the whole winter at Montrose, while others will travel around Britain visiting other sites with some reaching as far as Norfolk and Suffolk.
"This constant turnover of these geese means many of the world's pink-footed geese have 'holidayed' in Montrose."