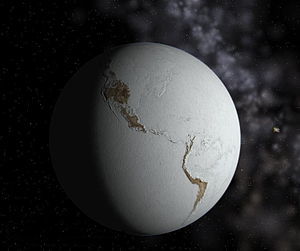 Around 1250 A.D., historical records show, ice packs began showing up farther south in the North Atlantic. Glaciers also began expanding on Greenland, soon to threaten Norse settlements on the island. From 1275 to 1300 A.D., glaciers began expanding more broadly, according to radiocarbon dating of plants killed by the glacier growth. The period known today as the Little Ice Age was just starting to poke through.
Summers began cooling in Northern Europe after 1300 A.D., negatively impacting growing seasons, as reflected in the Great Famine of 1315 to 1317. Expanding glaciers and ice cover spreading across Greenland began driving the Norse settlers out. The last, surviving, written records of the Norse Greenland settlements, which had persisted for centuries, concern a marriage in 1408 A.D. in the church of Hvalsey, today the best preserved Norse ruin.
Colder winters began regularly freezing rivers and canals in Great Britain, the Netherlands and Northern France, with both the Thames in London and the Seine in Paris frozen solid annually. The first River Thames Frost Fair was held in 1607. In 1607-1608, early European settlers in North America reported ice persisting on Lake Superior until June. In January, 1658, a Swedish army marched across the ice to invade Copenhagen. By the end of the 17th century, famines had spread from northern France, across Norway and Sweden, to Finland and Estonia.
Reflecting its global scope, evidence of the Little Ice Age appears in the Southern Hemisphere as well. Sediment cores from Lake Malawi in southern Africa show colder weather from 1570 to 1820. A 3,000 year temperature reconstruction based on varying rates of stalagmite growth in a cave in South Africa also indicates a colder period from 1500 to 1800. A 1997 study comparing West Antarctic ice cores with the results of the Greenland Ice Sheet Project Two (GISP2) indicate a global Little Ice Age affecting the two ice sheets in tandem.