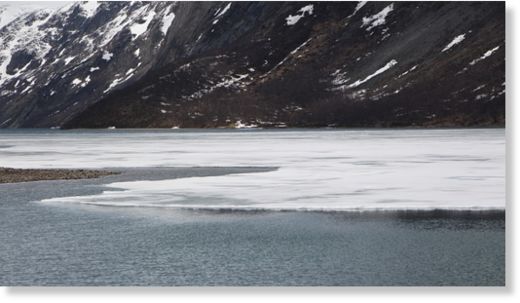 Should be green by now, and have thousands of sheep grazing
_____________________________________________________________________
"I am currently on a MC trip up though the coastline in Norway, and it has been a very cold journey so far,
only 3C on some passes in the mountains
," says reader 996bip.
"I was planning to also do some hiking to some of the known mountains, though tourist season is in full swing,
still a lot of places is closed due to snow, and frozen lakes. The popular hiking trail over "Besseggen" was closed due to the boat that takes tourist over the lake, could not go because of ice.
"The same on "Nigardsbreen" a glacier arm on Jostedalsbreen, the boat on that lake could not go because the lake was nearly empty.
The summer melt, and the movement of the glacier has not even started yet.
I had to walk along the lake about 45min to reach the glacier, and it was amazing be able to go so near and to almost touch the ice. Here's a short clip from that day: