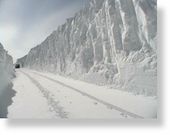 In June, 1974,
Time Magazine
unleashed a mountain of evidence to support what scientists - at the time - suspected was the onset of a coming ice age. Characterizing it's evidence as "
telltale signs everywhere
", the article went back three decades to summarize statistics and events which pointed towards global cooling.
Newsweek Magazine
conducted it's own investigation about a year later, concluding that evidence supporting a coming ice age had "
begun to accumulate
so massively that meteorologists (were) hard-pressed to keep up with it all."
When average temperatures over a 100 year period were
found to have risen
about a
half-degree Celsius
, the global cooling drum beat faded in lieu of a new worry - Global Warming. Environmentalist, looking for a way to connect man-made pollution to a more substantial argument, blamed CO2 emissions as the culprit for changes in the earth's climate. The drum beat of Global Warming grew louder and louder until the turn of the century - when climate data began defying weather model predictions and climate trend forecasts.