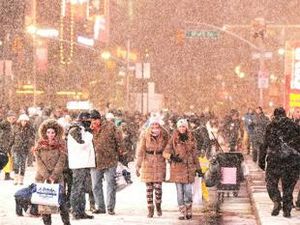 A major snowstorm producing blizzard-like conditions hammered the northeastern United States on Friday, causing 2,000 U.S. flight delays and cancellations, paralyzing road travel, and closing schools and government offices.
The first major winter storm of 2014 brought bone-chilling temperatures and high winds from the lower Mississippi Valley to the Atlantic coast, with nearly 2 feet of snow falling in some areas of Massachusetts.
Much of the U.S. Northeast saw heavy snowfall and plummeting temperatures late on Thursday and early on Friday, said Jared Guyer, a meteorologist with the National Weather Service.
The weather service said the mass of Arctic air would drop temperatures to 20 to 30 degrees below normal, with record lows possible on Friday.
It was still snowing in some places, such as Boston, "but we are probably past the peak in terms of intensity at this point," Guyer said, adding that the bitter cold and snow-scattering winds showed no signs of letting up.