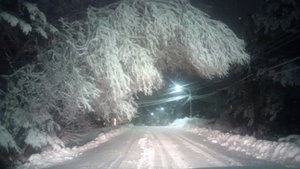 Heavy snowfall has left thousands of people without electricity and Nova Scotia power estimates it could take until midnight before crews are able to restore electricity to many homes in the northern part of the province, many of which have been in the dark since Friday evening.
About 51,800 customers were without power at 7:30 a.m. Saturday.
The outages affect about two dozen communities and range from Yarmouth to Dartmouth, Tatamagouche to Sydney.
While some areas such as Bridgewater are expected to see power back on around noon Saturday, service to parts of Guysborough isn't expected to return until 5:45 a.m. on Sunday.
The Department of Transportation says crews are working to clear and salt roads, some of which received as much as 30 centimetres of snow.
It is advising that the main roads in Cape Breton are still covered in snow and visibility is poor.
Friday night Nova Scotia Power said the nor'easter's impact was interfering with crews' ability to repair power lines as the heavy snow pushed trees onto them.