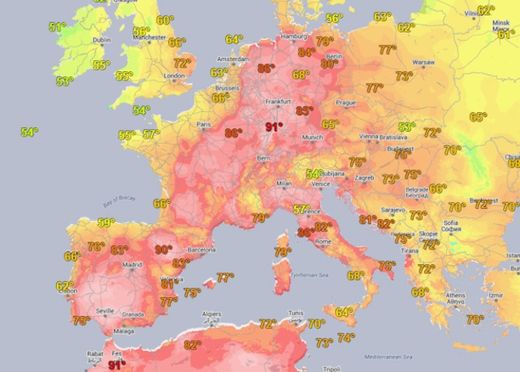 Parts of Europe are sizzling on Friday as an early-season heat wave sweeps across the continent. The heat is not particularly intense or dangerous, but it's pretty early the season for temperatures of this magnitude in northern Europe. Late-afternoon highs were surging into the low 90s, particularly in the Rhine River Valley in southwest Germany and eastern France.
Temperatures are steaming at as much as 25 degrees Fahrenheit above average for this time of year. Accuweather's Eric Leister says that some cities, including Paris, Amsterdam and Frankfurt, are seeing their hottest temperatures of the year thus far. The heat and humidity was fueling a line of showers and thunderstorms that's tracking east across northern Europe, with potential to impact the French Open on Friday evening.
The heat wave has likely reached its peak on Friday afternoon, though above-average temperatures will continue to spread south across Europe on Saturday into Sunday, but will regulate to highs closer to normal by early next week. Reuters reports that while the heat is making the tourists sweat in Paris, they don't necessarily mind the brilliant blue sky.