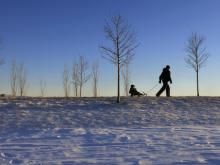 There's cold. And then there's subzero, frostbite cold.
Record-breaking frigid temperatures will blanket the Midwest beginning Sunday, part of a "polar vortex," that one meteorologist says will send piles of North Pole air down into the U.S.
These below-zero temperatures can be dangerous, and officials in several states are warning residents to take precautions. Here's a look at some of the problems that arise when temperatures plummet and how to stay safe if you venture outdoors.
FROSTBITE
At temperatures of 15 to 30 below, exposed skin can get frostbitten in minutes and hypothermia can quickly set in.
"People need to protect themselves against the intense cold," said Dr. Brian Mahoney, medical director of emergency services at Hennepin County Medical Center in Minneapolis. "They have to wear a hat, they have to have face protection."
Mahoney said mittens are better than gloves, layers of dry clothing are best, and anyone who gets wet needs to get inside.
"You can't be wearing high-heel shoes with your toes in nylons," he added. "That's a great way to get frostbite."