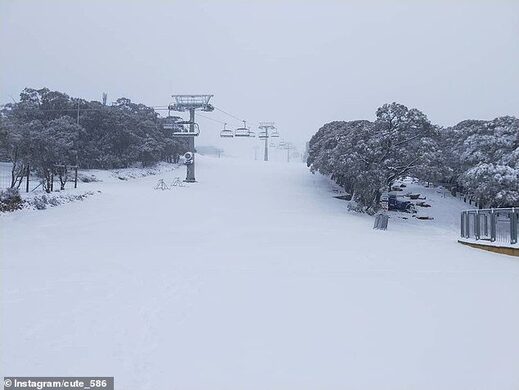 Melbourne
is set to shiver through its coldest four consecutive days in 24 years as a powerful wintery blast sweeps across Australia's southeast from Antarctica.
The weather will bring freezing temperatures to Tasmania overnight as snow falls at sea level, with the mercury plummeting to 0C in Hobart.
A trough is expected to bring cloudy conditions to Melbourne which will limit daytime heating and bring top temperatures of 11-12C from Tuesday to Friday.
This will be the city's first four-day period at or below 12C since 1996, Weatherzone's Ben Domensino said.
'Outside central Melbourne, temperatures could even get cold enough for snow to fall on some of the hills around the city,' he said.
'Snow is also likely in other low-lying parts of the state on Tuesday and Wednesday.'
The cold air mass has been described as 'exceptional' as it moves up towards Australia from Antarctica.