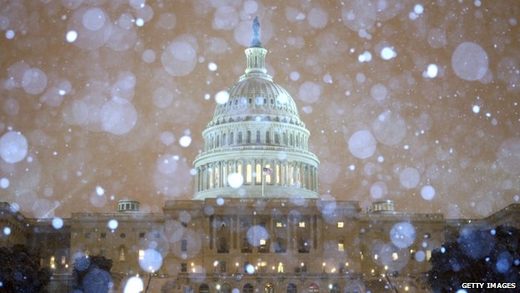 A huge snow storm is blanketing the densely populated US North-east, after wreaking havoc in the South.
Across the typically mild South, more than half a million homes and businesses lack power, and thousands of flights have been cancelled.
The weather system has affected people in about 22 states from Texas to Maine and caused a dozen deaths.
The storm dumped more than 12in (30cm) of snow in the Washington DC region, before descending on New York.
Snow-covered streets were deserted during the morning commute in the nation's capital, where the federal government shut down its offices.
Ten to 20 inches of snow could fall from north-eastern Pennsylvania to New England on Thursday, said the National Weather Service.
Nearly 5,000 flights were cancelled by Thursday morning, according to airline-tracking website FlightAware.com.