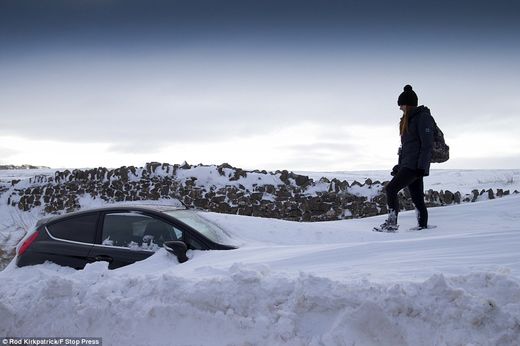 It's bad news for anyone who didn't pick up a coat in the January sales - last month's icy spell is expected to continue all week.
The mercury was expected to fall to -11C in some parts of the UK overnight, with subzero temperatures expected every night this week and snow predicted across swathes of the nation.
Southern England is gearing up for its coldest snap of the winter, with forecasters saying it will fall to -4C in the South tonight - as cold as your fridge.
Simon Partidge of the Met Office said: 'The maximum temperature on Monday will only be around 4C or 5C which is about the same as inside your fridge.
'And there is a further band of rain, sleet and snow coming in on Monday night
which will see some snow in Western parts on Tuesday. It will be dry with sunny spells from Wednesday, but still very cold with some snow on the East Coast.