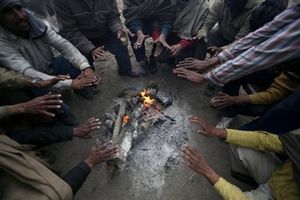 Hyderabad/Bangalore: The unprecedented cold wave sweeping across southern India has claimed seven lives so far in Andhra Pradesh and broken century-old temperature records at several places in neighbouring Karnataka.
Chilly winds blew across coastal and north Telangana districts, claiming the lives of four elderly persons at Gudipudi village near Sattenapalle in Guntur district on Monday. Two women each died in Bapatla and Visakhapatnam.
In interior Karnataka, the harsh weather has broken records. Madikeri registered its lowest temperature in 132 years on Monday, with the minimum dropping to 4.8 degrees Celsius.
At 7.7 degrees Celsius, Mysore recorded its coldest day in 120 years and Bangalore saw its coldest day of January in 19 years with minimum temperature touching 12 degrees Celsius. In the plains, Belgaum was the coldest at 7.2 degrees.