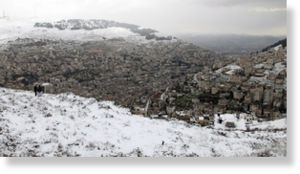 Four to six inches of snow fell in Jerusalem Wednesday night into Thursday morning, snarling traffic and closing schools and government offices. The snow in Jerusalem resulted from a large storm system that produced days of inclement weather in the Middle East. Initially, the storm brought mainly wind and heavy rains that caused
flooding and damage in some areas
.
But as cold air wrapped into low pressure tracking through the region, temperatures plummeted and snow reports spiked. Up to three feet of snow fell on Mount Hermon in northern Israel
the Inquisitr reported
. Snow was also observed in areas of the West Bank, Turkey, Jordan, Lebanon, Syria and Egypt.
The cold, stormy weather in Syria brought further suffering in war-ravaged cities and for refugees. "The United Nations says millions of people inside Syria and 600,000 refugees outside the country need assistance, including food, blankets and warm clothes,"
Voice of America wrote
.
Reuters called the snowstorm
the "worst" in 20 years in Jerusalem, but government officials and clergy put a much more positive spin on the glistening blanket of white.
"Jerusalem has many colors,"
President Shimon Peres said
. "But when she is white, it so rare, so beautiful, so unifying."
YNetNews
spoke to "prominent kabbalist" Rabbi David Batzri who said the snow was an indicator of forgiveness from God .
"The kabbalists torment themselves and pray for snow, which is a sign that the Jewish people's sins are being forgiven and erased," Batzri said.
Haaretz columnist Allison Somner
said some Israelis had proposed names for the storms such as "Snowpocalypse" but she spoke out against the popular western custom.
"Around these parts, even one non-controversial name would be impossible, let alone a list of them," Somner writes, offering 10 reasons why officially naming storms will never fly in Israel.
Here are some additional photos of the Israeli snowstorm...