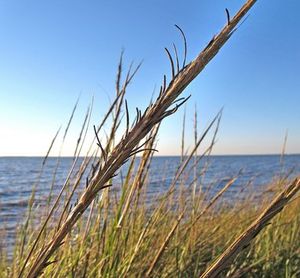 A widespread fungal outbreak is affecting one of Alabama's key marsh grass species, potentially rendering much of this year's seed crop sterile, according to scientists.
While the fungus is always present in coastal marshes, scientists speculated that repeated exposure to oil sheens floating on Mississippi Sound and Mobile Bay this spring and summer might have played a role in the outbreak by reducing the natural resistance of the marsh plants to the disease. It is also possible that other factors, such as an ongoing drought, played a more important role than oil, they said.
There are records of the fungus in Alabama and Mississippi marshes dating to 1895, and the scientific literature describes some years where every seed was lost to the fungus, said Judy Stout, who has studied the Gulf's coastal marshes since 1972.
"The marshes and barrier islands were the areas that took the brunt of the oil and sheens," said Judy Haner, marine conservation director with the Alabama office of The Nature Conservancy. "This infection raises the possibility that our marsh system is more vulnerable because it has been stressed. This wasn't like a hurricane, over and done in a day. This area was subjected to months of repeated exposure."
A BP spokesman said that if federal damage assessments found problems in the marshes related to the spill, the company would act appropriately.
Affecting Spartina alterniflora, one of the two main grasses in Gulf Coast salt marshes, the fungus produces deep purple shafts that protrude from individual plant seeds like cat claws coming out of a paw. The fungus,
Claviceps purpurea
, does not kill the adult plants.