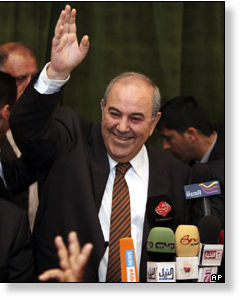 "I am saddened that it is politically inconvenient to acknowledge what everyone knows, that the Iraq war is largely about oil" - Alan Greenspan former head of the Federal Reserve
Tin-pot Iraqi dictator-in-waiting, Ayad Allawi was the US-appointed 'interim-Iraqi Prime Minister' for 9 months in 2004-5. Today he defeated incumbent Nouri al-Maliki to the position of Prime Minister by 10,000 votes according to reports.
Now there's one more CIA stooge ruling over yet another formerly sovereign nation and people.