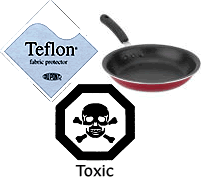 A controversial chemical used in Teflon non-stick coatings could be making people more prone to allergies, a study suggests.
Perfluoro-octanoic acid (PFOA) - also used to make all-weather clothing and stain-resistant fabrics and carpets - has already been identified by scientists as "likely" to be carcinogenic to humans.
Now Dr Jean Meade and colleagues at the National Institute for Occupational Safety and Health in Morgantown, West Virginia, have shown it may prime the immune system to overreact to allergy triggers (allergens) such as dust mite or dander.
Lab mice given PFOA before being exposed to an egg allergen produced more antibodies and experienced more constriction of their airways than those exposed to the allergen alone.
The results published in Toxicological Sciences suggest one possible explanation for the rising incidence of asthma in children.