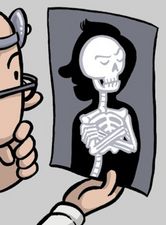 The human mind is fascinating. Understanding how we make decisions, how we form preferences, how we think about the future is not only intellectually interesting, but can also help us understand the dynamics of national conversations and find solutions to some of today's most pressing problems.
The national health care debate (or, all too often in August, temper tantrum) is one recent case where understanding the mental process can be helpful. "Status-Quo Anxiety", a
recent column
by
New Yorker
financial columnist James Surowiecki, shows how some findings from the field of behavioral economics apply to health care. Some of what he discusses is also applicable to our national conversation on food.
The first effect presented by Surowiecki is the "endowment effect": when we own something, we tend to overestimate its value. The effect has been shown in many experiments using everyday objects like mugs or event tickets, with the owners of the objects consistently charging far more than buyers are willing to pay.