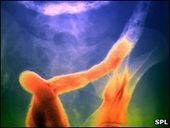 Genetic defects leading to a leaky gut are a key cause of the inflammatory disorder ulcerative colitis, UK research suggests.
The disorder causes ulceration of the rectum and the colon, but its exact cause has yet to be pinned down.
The latest study links the condition to four genes which all play a role in keeping the intestine lining healthy.
The
Nature Genetics
study is based on an analysis of the genes of 12,700 people.
It is twice as large as any previous study - giving the results far greater robustness.
Ulcerative colitis (
Colitis ulcerosa
) is a life-long, incurable condition, which can cause diarrhoea, fever, abdominal pain and swelling and weight loss. It affects approximately one in 1,000 people.