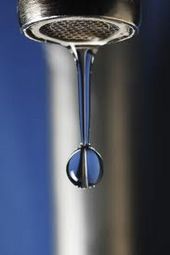 I would wager that there is not much water quality information in your medical record unless, of course, you have been treated for water borne disease. Most of us who live in the U.S. don't give water quality a second thought - but you might be surprised to learn how water quality varies from city to city.
The University of Cincinnati
has a very useful and easy to use application
that shows the water quality for metropolitan areas across the U.S. The site allows the visitor to identify metropolitan areas in the U.S. and discover concentrations of selected chemicals, as well as the presence of biological pathogens occurring in the drinking water of these communities. The site contains excellent reference information. In many parts of the U.S. you can see that specific harmful chemicals may dominate a region's drinking water supplies, and thus a physician would be expected to understand what these differences in water quality could actually mean for diagnosing a particular health problem.