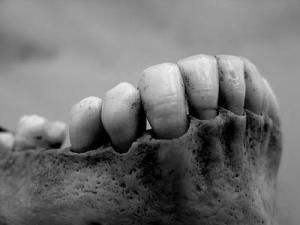 Ancient human teeth are telling secrets that may relate to modern-day health: Some
stressful events that occurred early in development are linked to shorter life spans.
"Prehistoric remains are providing strong, physical evidence that people who acquired tooth enamel defects while in the womb or early childhood tended to die earlier, even if they survived to adulthood," says Emory University anthropologist George Armelagos.
Armelagos led a systematic review of defects in teeth enamel and early mortality recently published in
Evolutionary Anthropology
.The paper is the first summary of prehistoric evidence for the Barker hypothesis -- the idea that many adult diseases originate during fetal development and early childhood.
"Teeth are like a snapshot into the past," Armelagos says. "Since the chronology of enamel development is well known, it's possible to determine the age at which a physiological disruption occurred. The evidence is there, and it's indisputable."