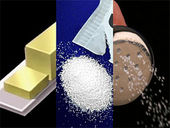 Ex-Surgeon General Says restaurants overload foods with ingredients we crave, but they're just selling what we desire
The next time you come down with a case of the munchies, consider calling on Dr. David Kessler.
He and Altschul recently made a take-out run to some of America's most popular dining spots - the ones whose ads promise total tastebud-overload, like Chili's, Friday's, and Applebee's.
We brought back loads of goodies, but Dr. Kessler provided the real
food for thought
.
"The fat, the sugar and salt have been layered and loaded into this food," he said. "If I just gave you a package of sugar and say, 'Go have a good time' - "
"I'd pass," said Altschul.