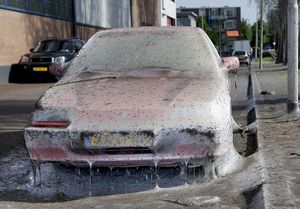 Most drivers would be delighted if their car came with a silk-lined interior.
Whether it's such an appealing prospect on the outside is another matter.
This is the sight that greeted one unlucky motorist when he returned to his vehicle in Rotterdam.
Under a giant silk cocoon created by an army of caterpillars, the shape of a Honda is just about visible.
The car was mistaken as food by spindle ermine larvae, which had already begun to strip a nearby tree of its leaves.