Chronic boozing sends male flies chasing after any and every potential mate.
From the annals of insect biology comes a cautionary tale for those recovering from their post-New Year's celebration: heavy boozing has been shown to send male fruitflies, like their human counterparts, into a lusty fog.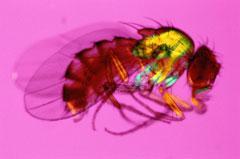 ©Getty
Fruit flies get amorous under the influence of constant booze.