QINGLIAN - A magnitude 5.0 aftershock shook a brimming, earthquake-formed lake and sent landslides tumbling down surrounding mountains Sunday, underscoring the persistent threat of flooding to more than 1 million weary refugees downstream.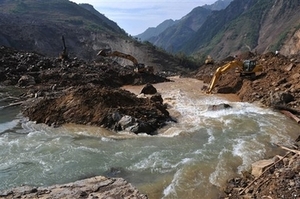 ©AP Photo/Color China Photo
Workers widen a sluice channel at the Hongshihe quake-formed lake at Qingchuan County in southwest China's Sichuan province, Saturday, June 7, 2008. Soldiers blew up wooden houses and other debris Sunday in a lake formed by China's deadly earthquake to speed the flow of water into a diversion channel and ease the threat of flooding for more than 1 million people in the sprawling disaster zone.
No new evacuations were ordered and the lake's dam of unstable mud and rocks did not collapse, said Hu Peng, a media officer at the disaster relief headquarters of the lake. He had no additional details.
More than 250,000 people downstream have been evacuated in recent weeks.