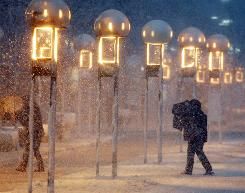 Denver - A spring snowstorm that whipped though Colorado left the state a slushy mess Wednesday, with thousands stuck at Denver's airport or left without power or schools.
The heavy snowmaker dumped more snow than even some spring break ski vacationers bargained for.
"We were supposed to leave yesterday," said Jenny Gossow of St. Louis, who missed a flight out of Denver after a family spring break ski trip to Telluride, Colo. Gossow, along with her husband and three children, spent Tuesday evening snoozing on blue mats Denver International Airport provided for an estimated 5,000 stranded travelers.