Earth Changes
AFP
Fri, 20 Apr 2007 02:13 UTC
Japan has sounded an alert for small tsunami waves after a strong earthquake in the southern island chain of Okinawa.
---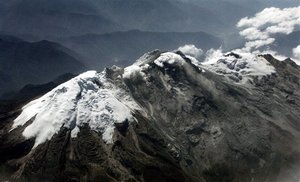 ©AP Photo/Fernando Vergara
The Nevado del Huila volcano is seen in this aerial view, at the southwestern state of Huila, Colombia
NEIVA, Colombia - Thousands of people were evacuated after a long-dormant volcano erupted late Tuesday and again early Wednesday, provoking avalanches and floods that swept away houses and bridges.
---
---
On the 101 anniversary of the San Francisco Earthquake, a 4.8 quake shook the Lake Pillsbury area in northern California, about 150 miles north of San Francisco.
---
XinHua
Wed, 18 Apr 2007 13:49 UTC
LHASA - China has succeeded in creating artificial snow in the northern part of the Tibet Autonomous Region for the first time, according to the local meteorological department.

Taking advantage of suitable weather conditions, the Tibet meteorological station carried out an artificial snowfall operation in Nagqu County in northern Tibet on April 10 at an altitude of about 4.500 meters.
---
Following the second warmest winter on record two natural events suggest we have leapfrogged spring and moved straight to summer, a conservation charity said today.

Following a weekend where some parts of the UK basked in temperatures 10C above the seasonal average, the Woodland Trust said flowering hawthorn and the return of migrating swifts indicated that summer had arrived a month earlier than usual this year.
---
Forces brewing deep beneath Yellowstone National Park could be making one of the largest volcanoes on Earth even bigger, a new study reveals.

In the past decade, part of the volcano has risen nearly five inches, most likely due to a backup of flowing molten rock miles below the planet's crust.

While the rise may not be noticeable to the casual hiker, the activity may have cracked the crust in the park's famous Norris Geyser Basin (NGB), leading to the formation of new fumaroles-holes that vent smoke and gas-and the reawakening of some of the area's geysers, including Steamboat, the largest geyser in the world.

Yellowstone last erupted about 640,000 years ago, spewing 240 cubic miles of material. Despite the newly discovered activity, researchers don't expect it to erupt any time soon. Eventually, however, it could explode again as a super-volcano that would destroy life for hundreds of miles around and coat the entire country in ash.
---
Life is a risk, but Yellowstone National Park's tumultuous geology offers a bit more for worrywarts.
Comment:
You can download the
report
yourself.
This is taken from the summary:
Possible future violent events in the active hydrothermal, magmatic, and tectonic system of
Yellowstone National Park pose potential hazards to park visitors and infrastructure. Most of the national park and vicinity are sparsely populated, but significant numbers of people as well as park resources could nevertheless be at risk from these hazards. Depending on the nature and magnitude
of a particular hazardous event and the particular time and season when it might occur, 70,000 to more than 100,000 persons could be affected; the most violent events could affect a broader region or even continent-wide areas. This assessment of such hazards is presented both as a guide for
future activities of the Yellowstone Volcano Observatory (YVO) and to aid appropriate response planning by the National Park Service and surrounding agencies and communities. Although the assessment is presented here in some technical detail, this summary is intended to be
understandable to non-scientists. The principal conclusions also will be made available in other forms, more accessible to general readers.
---
As if frogs and other amphibians around the world didn't have enough to worry about with a killer fungus spreading rapidly and humans encroaching on their habitats, now global warming seems to be affecting one of the few pristine habitats the frogs have left, a new study suggests.

More than one third of amphibian species in the world today are threatened, and it is estimated that more than 120 species have disappeared since 1980.

A lack of long-term data on frog populations has made it difficult to determine the causes of these declines, especially in areas far from the effects of humans.

Scientists know a pathogen called a chytrid fungus is causing an infection in the skin of frogs in epidemic proportions in cool, high-altitude areas, preventing their skin from taking in enough water and causing them to die of dehydration.
---
Climate model simulations for the 21st century indicate a robust increase in wind shear in the tropical Atlantic due to global warming, which may inhibit hurricane development and intensification. Historically, increased wind shear has been associated with reduced hurricane activity and intensity. This new finding is reported in a study by scientists at the Rosenstiel School of Marine and Atmospheric Science at the University of Miami and NOAA's Geophysical Fluid Dynamics Laboratory (GFDL) in Princeton, N.J., and, scheduled to be published April 18th in Geophysical Research Letters.

While other studies have linked global warming to an increase in hurricane intensity, this study is the first to identify changes in wind shear that could counteract these effects. "The environmental changes found here do not suggest a strong increase in tropical Atlantic hurricane activity during the 21st century," said Brian Soden, Rosenstiel School associate professor of meteorology and physical oceanography and the paper's co-author. However, the study does identify other regions, such as the western tropical Pacific, where global warming does cause the environment to become more favorable for hurricanes.

"Wind shear is one of the dominant controls to hurricane activity, and the models project substantial increases in the Atlantic," said Gabriel Vecchi, lead author of the paper and a research oceanographer at GFDL. "Based on historical relationships, the impact on hurricane activity of the projected shear change could be as large - and in the opposite sense - as that of the warming oceans."
---