A newly identified fault that runs under the Adriatic Sea is actively building more of the famously beautiful Dalmatian Islands and Dinaride Mountains of Croatia, according to a new research report. Geologists had previously believed that the Dalmatian Islands and the Dinaride Mountains had stopped growing 20 to 30 million years ago.
From a region northwest of Dubrovnik, the new fault runs northwest at least 200 km (124 miles) under the sea floor.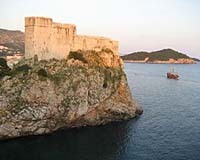 ©Richard A. Bennett
This old fortress in Dubrovnik sits on top of an Eocene thrust fault which is visible in the photo. The newly discovered active thrust fault lies not far offshore.