African elephants are being slaughtered for their ivory at a pace unseen since an international ban on the ivory trade took effect in 1989. But the public outcry that resulted in that ban is absent today, and a University of Washington conservation biologist contends it is because the public seems to be unaware of the giant mammals' plight.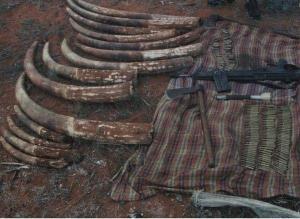 ©William Clark
Elephant tusks seized by authorities lie next to weapons used by poachers, including rocket-propelled grenades used against rangers who protect the elephants.
But the poaching death rate in the late 1980s was based on a population that numbered more than 1 million. Today the total African elephant population is less than 470,000.
"If the trend continues, there won't be any elephants except in fenced areas with a lot of enforcement to protect them," said Wasser.