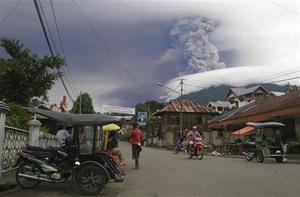 ©REUTERS/Stringer
People from a district in Minahasa look at columns of ash spewed from Mount Soputan, in Indonesia's North Sulawesi province June 6, 2008.
Indonesia has raised the alert level for a volcano on Sulawesi island to the highest after it began spewing hot lava and clouds of smoke, a vulcanology official said on Saturday.
Lava from Mount Soputan has been gliding down its slopes about 1.5 km (0.9 miles) from the crater since Friday but has not reached the foot of the mountain, said Saut Simatupang, head of Indonesia's Vulcanology Survey.