Authorities on Wednesday ordered most of the remaining residents of this scenic coastal community to leave after an out-of-control wildfire jumped a fire line and threatened more homes.
New mandatory evacuation notices were issued Wednesday morning for an additional 10-mile stretch along Highway 1, bringing the total length of the evacuated area to about 25 miles of the coast, emergency officials said.
"The fire is just a big raging animal right now," said Darby Marshall, spokesman for the Monterey County Office of Emergency Services.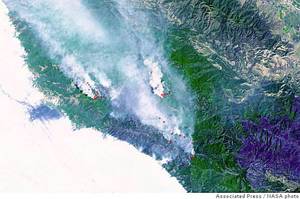 ©NASA photo via Associated Press
Fires near Big Sur are shown in a photo from the Advanced Spaceborne Thermal Emission and Reflection Radiometer instrument on NASA's Terra satellite on Sunday, June 29, 2008. The image combines a natural color portrayal of the landscape with thermal infrared data showing the active burning areas in red. The dark area in the lower right is a previous forest fire.
Firefighters are battling more than 1,100 wildfires, mostly ignited by lightning, that have scorched 680 square miles and destroyed 60 homes and other buildings across Northern California since June 20, according to the California Department of Forestry and Fire Protection.