You've probably all heard of Svensmark and the Galactic Cosmic Ray (GCR) to cloud cover modulation theory by now. Lot's of warmists say it is "discredited". However, CERN in Switzerland isn't following that thinking, and after getting some encouraging results in the CLOUD06 experiment, they have funded a much larger and more comprehensive CLOUD09 experiment. I figure if it is "discredited", a bunch of smart guys and gals like CERN wouldn't be ramping up the investigation. There's also word now of a new correlation: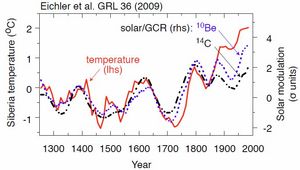 I get so many tips now it is hard to choose, but this one is a gem. If you look at nothing else this month, please take the time to download the slide show from CERN's Jasper Kirkby at the end of this article.
He does a superb job of tying it all together. I found Kirkby's slide show quite interesting, and I've grabbed some slides for our WUWT readers. He proposes a GCR to cloud droplet mechanism, which to me, makes sense meteorologically. He also touches on the possibility that the Inter-Tropical Convergence Zone (ITCZ) may have been shifted due to GCR modulation during the LIA/Maunder Minimum. This ties in with Willis Eschenbach's theories of the ITCZ being a "
thermostatic mechanism
" for the planet with some
amplification effects
. - Anthony