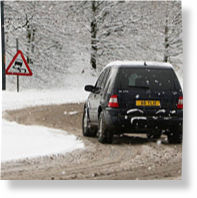 The Army was mobilised to help stricken drivers as heavy snow brought traffic chaos and cut power to thousands of homes in northern England.
Hundreds of schools were closed across Northern England and Scotland.
As much as 20cm of snow fell in the Durham Dales, and 17cm was recorded at Redesdale, Northumberland, with driving winds causing drifts on transpennine routes in what was the heaviest snowfall of the winter so fall.
Around 4,450 homes were without power in north-east Yorkshire and north Linclonshire by early evening.