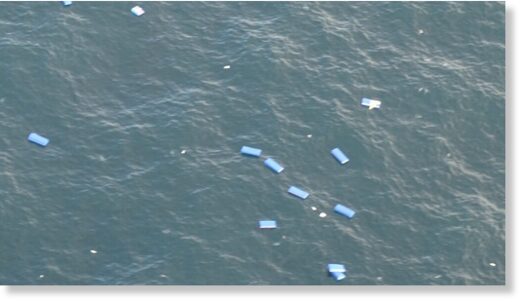 The Canadian Coast Guard and United States Coast Guard are warning boaters after 40 shipping containers were tossed from a cargo ship Friday in rough seas off Vancouver Island.
The containers were adrift approximately 69 kilometres west of Vancouver Island just before 3 p.m., according to U.S. officials. (USCG)
The cargo vessel
Zim Kingston
was inbound for Vancouver when it listed to one side, dropping the containers into the ocean near the mouth of the Strait of Juan de Fuca, the authorities said.
The U.S. Coast Guard Navigation Center sent out a broadcast to mariners Friday afternoon warning that the lost containers may be partially submerged and not easily visible from the surface.
"Mariners should exercise extreme caution" when transiting the region, the centre warned.
The Canadian Coast Guard also sent out a notice on NavWarn about the affected area.