Pilot whales that survived a mass stranding in Tasmania are yielding fresh insights into the mammals' little-known deep-sea lives.
Satellite tags attached to five of the surviving whales on Sunday have let scientists track the specie's movements for the first time in Australian waters.
They also worked as beacons, allowing airborne wildlife officers to find and photograph all 11 survivors swimming together.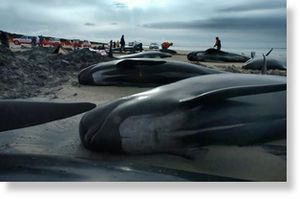 A Tasmanian Government zoologist, Rosemary Gales, said yesterday the findings confirmed for the first time the success of a pilot whale rescue in the state, which is a hot spot for beachings.
"Everybody asks, 'How do you know whether the whales you rescue survive?' " Dr Gales said. "Well these ones have."
The small, dark-skinned pilot whales normally live in open oceans, where they dive up to 1000 metres in search of prey.