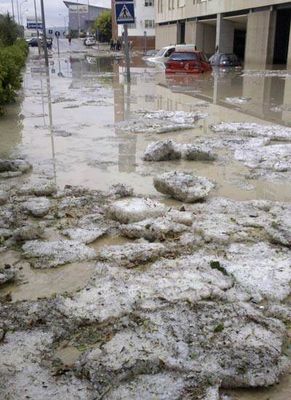 Two people were hit by lightening when on the beach.
Summer storms have been bringing scenes of drama to parts of Spain.
A 15 minute long cloudburst flooded the streets to Cuenca to a depth of nearly a metre of water. Vehicles were covered in places and some people found themselves wading up to the waist. Shops, garages and some homes were flooded in several regions of the city, and the
hailstones reached three centimetres
in diameter at times.
Valencia, Alicante and the south of Castellón saw the worst of the storms and the weather forecasters said that as much as 40 litres per square metre could fall in some areas.
Storms in Tarragona and Valencia caused delay to both long distance and local train services. The drainage system overflowed in Murcia, while fires were caused by lightening in Fortuna, Yecla and Jimilla.
Orange Alerts for storms remain in place today, Saturday, for the north of Alicante and south of Valencia, and there are Yellow Alerts for rain in Barcelona and Girona. High winds and rough seas have resulted in a Yellow Alert for the Canaries.
Meanwhile two people were injured after being hit by lightning on Friday while on beaches in Castelló d'Empúries in Girona and El Perelló in Valencia.
The Cataluña victim is a 60 year old French man who is in a serious condition in hospital. His heart had stopped and he lost consciousness after the strike.
The 55 year old victim in Valencia is reported to be making progress to the burns on his leg.