Meltwater clogging and speeding of Kennicott Glacier may help explain behavior and acceleration of glaciers in Greenland, say researchers
A University of Colorado at Boulder study indicates meltwater periodically overwhelms the interior drainpipes of Alaska's Kennicott Glacier and causes it to lurch forward, similar to processes that may help explain the acceleration of glaciers observed recently on the Greenland ice sheet that are contributing to global sea rise.
According to CU-Boulder Professor Robert Anderson of the Institute of Arctic and Alpine Research, the amount of water passing through conduits inside and underneath the Kennicott Glacier increases during seasonal melting and also following annual flooding from a nearby lake. The addition of excess water from melting and flooding causes water to back up into a honeycomb of passages inside the glacier, he said, suggesting the resulting increase in water pressure causes the glacier to slide more rapidly down its bedrock valley.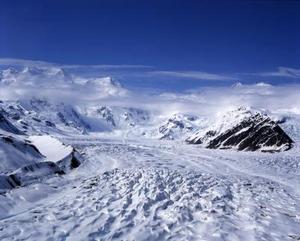 ©Robert. S. Anderson/University of Colorado at Boulder
Alaska's Kennicott Glacier recently has been observed by scientists to be lurching, a result of meltwater and floodwater overwhelming its interior plumbing.
"The phenomenon is similar to the plumbing system of a house that is incapable of handling excess water or waste, causing it to back up," said Anderson. "This is a feedback we are still trying to understand and one that has big implications for understanding the dynamics of glaciers and ice sheets, including the behavior of outlet glaciers on the Greenland ice sheet."