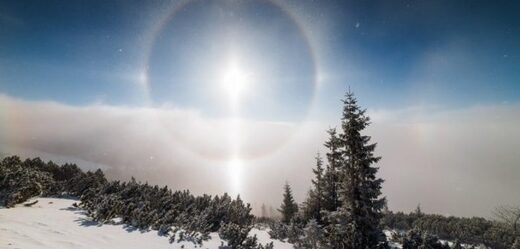 A skier who was in the right place at the right time was able to photograph an astonishing weather phenomenon known as a sun dog.
When conditions are ideal, the rare sight is known as a mock sun and appears at 22 degrees in the sky.
The man, who goes by the handle Strictly Christo, posted the video to Twitter on Sunday but didn't say where it was shot.
"A solar parhelion," he captioned the video. It belongs to the family of halos formed by ice crystals in the atmosphere refracting sunlight.
"Cirrus or cirrostratus clouds have the required ice crystals. The appearance of the parhelion is determined by the presence and placement of these clouds. A 'sun dog' is a term used to describe this phenomena.