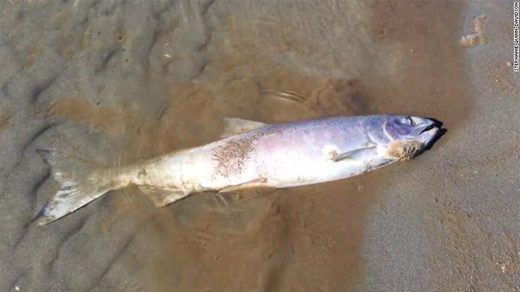 Alaska has been in the throes of an unprecedented
heat wave
this summer, and the heat stress is killing salmon in large numbers.
Scientists have observed die-offs of several varieties of Alaskan salmon, including sockeye, chum and pink salmon.Stephanie Quinn-Davidson, director of the Yukon Inter-Tribal Fish Commission, told CNN she took a group of scientists on an expedition along Alaska's Koyokuk River at the end of July, after locals alerted her to salmon die-offs on the stream.
She and the other scientists counted
850 dead unspawned salmon on that expedition, although they estimated the total was likely four to 10 times
larger.
They looked for signs of lesions, parasites and infections, but came up empty.
Nearly all the salmon they found had "beautiful eggs still inside
them," she said.
Because the die-off coincided with the heat wave, they concluded that heat stress was the cause of the mass deaths.

Comment: So it isn't definitive proof, but it is certainly a possibility, and it's notable extreme temperature swings are wreaking havoc all over the planet.


Quinn-Davidson said she'd been working as a scientist for eight years and had "never heard of anything to this extent before."