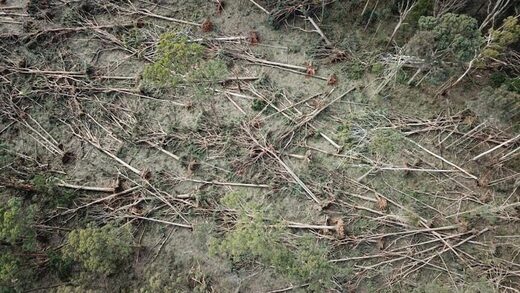 A week after ferocious winds damaged swathes of forest in central Victoria some locals are saying it is the worst storm damage they have ever experienced.
Resident Lily Langham said in the 35 years she had lived near Daylesford she had never seen anything like it.
"It looked like a logging coup," she said.
After driving through forest south of Daylesford to survey the damage, she said the one positive was hearing birds had returned to the forest.
The Bureau of Meteorology's Dr Blair Trewin said last week's storm was on a scale not seen in many decades.
The wild weather was highly unusual because of the wind direction and length of time such high winds lasted, Dr Trewin said.
"There's been 25 other times in the last 20 years when there have been wind gusts over 100km an hour [at Kilmore]," he said.
"But there's only been one case out of those 25 where winds have come from a similar direction to what they did this time."