I saw thousands of these on Drakes Beach on Dec. 6, after the recent storm. What happened? - David Ford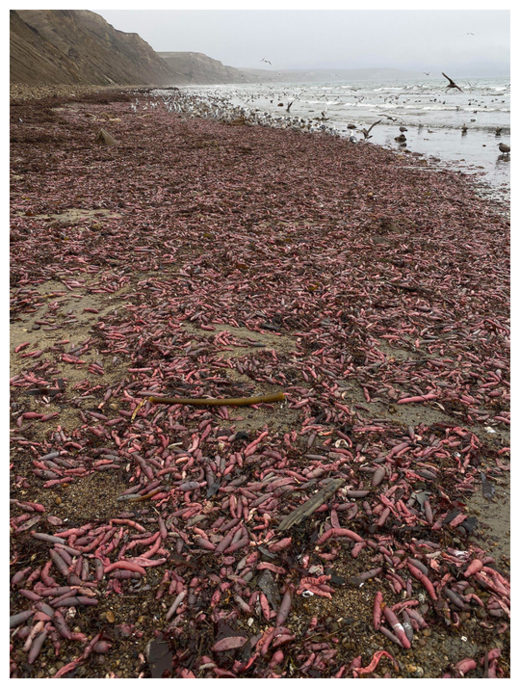 You could be forgiven for being offended by the above photo:
thousands of 10-inch wiggly pink sausages strewn about Drakes Beach.
The same phenomenon has been reported over the years at
Pajaro Dunes
, Moss Landing, Bodega Bay, and Princeton Harbor.
I've heard my share of imaginative theories from beachcombers, such as flotsam of a wrecked bratwurst freighter. In truth, these are living denizens of our beaches rudely, yet also mercifully, mostly called "fat innkeeper worms."
What in the name of Secretariat is a fat innkeeper worm? The fat innkeeper worm (
Urechis caupo
) is a type of spoonworm (
Ehciuroidea
), an order of non-segmented marine worms identified by a spatula-shaped proboscis used for feeding and sometimes grasping or swimming. The fat innkeeper's family (
Urechidae
) contains only four species worldwide, collectively known as either innkeeper worms or, well, penis fish. This is why we prefer scientific names.
U. caupo
is the sole representative in North America, found only from Southern Oregon to Baja, with the bulk of sightings between Bodega Bay and Monterey. So, whether or not you feel privileged by its presence,
U. caupo
is an almost uniquely California experience, perhaps having the best claim for State Worm.